Iain Macleod – Partner
Iain is one of the founders and owners of Route to Market Consulting.
He is a highly experienced sales professional who is recognised as a specialist in developing sustainable relationships within new client accounts within the Consulting community. In his career Iain has been involved in supporting the creation and execution of go to market strategies for a large number of leading Consulting and Technology organisations including Deloitte, KPMG, CSC, Atos, Booz & Co, Roland Berger and IBM.
Iain brings significant experience of direct sales within a Technology based Consulting environment and has led the commercial element of multiple winning Consulting and Professional Services bids in the Financial Services, Telecommunications, Local Government, Media and Technology sectors.
Barry Whale – Commercial Director
Barry is a Partner Level Consultant with 30 years industry experience working within the IT industry across the multiple services sectors. He has held senior leadership positions in a number of technology focused consulting organisations and has been personally responsible for a significant volume of sales during his career. 
Barry has an extensive personal network of contacts within the Enterprise sized organisations that Route to Market customers typically target, and as well as his significant expertise in the planning and execution of successful sales strategy, his input also helps our customers to understand how to establish and nurture those relationships to ensure long-term success.
As a highly respected Management Consultant he has led a number of high profile client engagements from infrastructure transformations to acquisitions and divestitures and as a result has a deep understanding of how the organisations we target are structured, and what traits they are looking for in a potential new supplier.
George Innes – Consultant
George is a highly experienced sales professional who is recognised as a specialist in cyber security, developing sustainable relationships within new business client accounts. In his career George has been involved in supporting some the biggest cyber organisations dealing with Consultancy and Professional Services including NCC Group, Sapphire and Truststream as well as Technology companies such as Checkpoint, Tenable, Zscaler, CyberArk and Log Rhythm.
George brings significant experience of direct sales and account management within the cyber environment and has won multiple new business accounts across multiple verticals including but not limited to Financial Services, Telecommunications, Local Government, Media, Public Sector and Healthcare.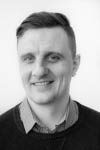 Gavin Sutherland – Consultant
Gavin brings a wealth of expertise to the business development team. With over 15 years' experience managing accounts for global management consultancies he is known for building lasting relationships. He has built his knowledge and experience working for some of the largest players in the Technology and Consulting Industries. A passion for delivering results and exceeding expectations is a key motivation for his professional career.
In his free time, Gavin likes to spend time with his family and enjoys playing sports, fishing and the great outdoors.
Scott Pentland – Consultant
Scott had a varied early career, dominated by music until his late 20's when he started working in the technology sector. Since these early beginnings, Scott gravitated towards sales and has been involved in business development for over 18 years, speaking with C-suite executives in some of the world's best-known organisations still drives him every day. With a genuine passion for engaging with people he might not typically meet everyday his drive, passion and integrity shine through in the care and attention he gives every one of our clients who have entrusted us to deliver for them.
Scott is a family man and outside of work loves spending time with his wife and son as well as being involved in numerous charitable activities. He's also still, on occasion, banging the drum with his passion for music.